Gutter Cleaning in St. Louis
When fall comes, all it takes to clog your gutters is one rainy day. No one likes cleaning gutters. It's a nasty job that can quickly get dangerous. However, it's a job that has to be done if you want your gutters to do what they're supposed to - direct the water away from your home.
If you've had enough of clogged gutters, it's time to call in a professional gutter cleaning service to do the job for you. Power Wash St. Louis is here to make your gutters free from dirt and leaves and make them function properly again.
Professional Gutter Cleaning Near Me - St. Louis Area
If you live in the St. Louis area and need a professional gutter cleaning service - Power Wash St. Louis is here for you. By hiring our company, your gutters will be unclogged and clean in no time!
Once you hire us, one of our technicians will get to your home as soon as possible and inspect what needs to be done. The job will be done in no time, and we'll make sure everything is to your satisfaction.
You can be sure that each one of our technicians is highly trained and experienced in not just gutter cleaning, but every other cleaning job we offer. After the job is done, we'll always consult with you to be 100% sure that your expectations are met.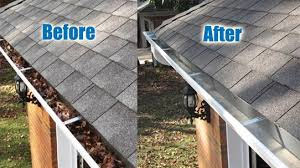 If you have any questions about our cleaning methods or need advice on how to keep your gutters clean without professional help, feel free to ask us! We always like to keep it professional and transparent with our customers.
All our technicians love communicating with customers and informing them about what we're exactly doing while cleaning. This way, you can be sure that by hiring Power Wash St. Louis, there won't be any hidden cost.
Contact us now and let us make your gutters function again correctly!