Deck Staining in St. Louis
If you own a deck, you know how essential it is to maintain it through the years so it always looks its best. One of the most important parts of deck maintenance is re-staining and sealing it every 3 to 4 years. This way, you're protecting the wood from moisture that can ruin it and cause structural damage.
Next to power washing, deck staining is one of the best and fastest ways to improve your deck's appearance.
The same goes for your wood fencing. If you don't clean and stain it regularly, the moisture will get to it, forcing you to rebuild it completely.
Unfortunately, deck cleaning and staining are not as straightforward as some homeowners assume. And, it's not always in your best interest to do it yourself. Zealously power washing your deck and applying stains to wood that's already rotten will cause more harm than good.
Deck cleaning and staining is a delicate process that can easily go south, which is why it's best you leave it to the professionals at Power Wash St. Louis.
We've been in the business for more than 25 years and treat each property like it's our own. We guarantee superb customer service, affordable prices, and lightning fast service. Contact us today and schedule a free consultation!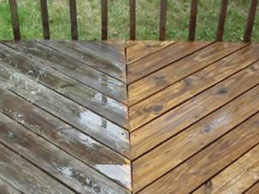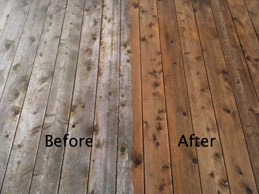 We Provide The Best Deck And Fence Staining/Cleaning Service In St Louis
If it's time to clean, stain, paint or finish your wood deck, don't hesitate to contact us. Don't risk it by hiring the first handyman you find. By hiring our service, you can feel confident knowing our technicians have an average of 25 years of experience. This means we consistently deliver high-quality work. So much so that we guarantee our workmanship.
If you need pool deck cleaning, fence cleaning/staining, or any other cleaning service - we're here to help!